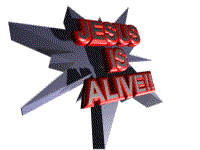 Acts 4:12 Neither is there salavation in any other: for there is none other name under heaven given among men, whereby we must be saved.
John 14:6 Jesus saith unto him, I am the way, the truth, and the life: no man cometh unto the Father, but by me.
Acts 16:31 Believe on the Lord Jesus Christ, and you shall be saved.
John 20:31 But these are written, that ye might believe that Jesus is the Christ, the Son of Gid; and that believing ye might have life through his name.
John 1:12 But as many as recieved him, to them he gave power to become the sons of God, even to them that believe on his name.
John 5:24 "I tell you the truth, whoever hears my word and believes him who sent me has eternal life and will not be condemned; he has crossed over from death to life."
John 3:36 Whoever believes in the Son shall have eternal life, but whoever rejects the Son will not see life, for God's wrath remains on him.
Romans 3:23 For all have sinned, and fallen short of the glory of God
Romans 5:12 Therefore, just as sin entered the world through one man, and death through sin, and in all sinned
Romans 5:8 But God demonstrates his own love for us in this: While we were still sinners, Christ died for us.
Romans 6:23 For the wages of sin is death, but the gift of God is eternal life in Christ Jesus our Lord.
Romans 10:9-10 That if you confess your sins with your mouth, Jesus is Lord, and believe in your hearts that God raised him from the dead, you will be saved. For it is with your heart that you believe and are justified and it is with your mouth that you confess and are saved.
Ephesians 2:8 For by Grace you are saved through faith, and that not of yourselves: it is the gift of God.
Won't you please accept Jesus into your heart? It is the most important decision that you will ever make. For this is eternity, and will continue after death. Jesus is coming one day, and he will take all the Christians out of this world, and into heaven, where we will live forever, in peace.
---
Click here if you want to accept Jesus into your heart
Click here if you don't accept
---
---
---